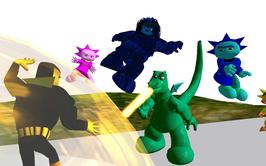 The Liberty Kids. Three kids took off from cyber-space to check out a planet with a human race, but the ship was travelling much too fast. To their, surprise, they ran out of gas. Causing the young crew to finally crash, with a great big boom and a sudden bash. The ship went down on a historical site, Lady Liberty's Beacon Light. Now the story begins with the statues face.  They thought, oh! this is how it must be, the human race. So they went to explore the world they wanted to see, and took on the appearance of Miss Liberty. 
The human race wasn't what they thought it would be, it was nothing like Miss Liberty. All they saw was chaos and hate. Was this the force that controls the human fate? Still they traveled until they saw a child, with the happiest face and the brightest smile. Oh, they said to one another, I would be happy to call this human my brother. For this child is love and he is the one we will teach, to go throughout the world spreading peace. So this is the gift that the Liberty Kids gave, they taught the world to love and many lives were saved.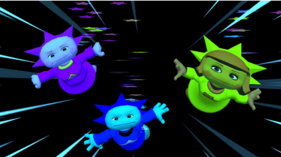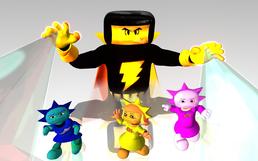 Produced in our studio in New York City; we do character design, create the stories, 2D and 3D animation, voice overs, audio detail and all other types of games and videos. And we do all of this while attempting to avoid all of the zombies that are inhabiting our virtual world of zombies!!
Player Name: Kenny Bernardo
Start Date: 10/13/1956
Rank: Major
Level: Super Top